The second framework refers to an API-centric, fully integrated BSS/OSS solution that enables zero-touch process automation, allowing operators to rapidly quote, provision and invoice wholesale services across their network footprint.
This comprehensive framework, which is built on the Salesforce® platform, allows operators to fully automate processes for:
- customer management
- product management
- request handling
- offer preparation
- order fulfillment
- network management
- service assurance
- billing
- reporting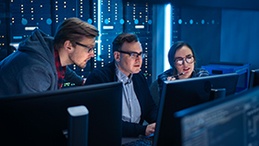 The API-first architecture supports partner onboarding, the integration with network management systems, the integration with ERP systems, and hardware & virtualization (ESB).
Given the large amount of repeatable daily transactions and interactions with their partners,
closes the gap with OSS platformscloses the gap with OSS platforms,
operators need to adopt a flexible service fulfillment solution that allows the automation of key business processes,
and enables carrier interoperability.
In this way operators ensure they stay competitive in the future.